Why are Egyptian-esque animal-headed celestials the natives of Elysium, the NG plane of blessed rest?
Are yugoloths the main planar race on both Gehenna and the Gray Waste?
How can I make Slaadi usable in my game? And why are crazy spawning frog monsters the embodiment of Chaos?
As Planescape fans, and especially as DMs, we are going to start asking ourselves these sorts of questions at some point, or else be asked them by our players. I'm embarking on a reimagining of the major planars races of the 17 Outer Planes, inspired by our work with jumpstarting the Planar Renovation Project again. The general rules are:

The race must represent its plane and be compelling in its own right.
There must be sub-species of the race.
Where possible, the representative race should be an adaptation of an existing D&D race (preferably a planar one), but if absolutely necessary it can be something made new whole-cloth.
It if ain't broken (e.g. Modrons, Baatezu, Tanar'ri) don't fix it.
.
As a quick guide to my notation:
bold
equals a species in its normal place in the cosmology, while
bold+
indicates I'm suggesting story tweaks to the species without changing its fundamental place.
Italics
indicates I'm using an existing species in an unusual cosmological placement because it *feels* like a better match there. And
dark orange
indicates I'm advocating an entirely new race, or possibly such a radical change that I haven't found a suitable monster from D&D lore to fit yet.
.
Ok, let's dive right in! I'll start with 3 neutral planes, then the Lower Planes, then the Upper Planes.
.
Outlands: Rilmani+
Someone posted that he imagined Rilmani as alchemically perfected humans who once had an empire across the Plane of Concordant Opposition, who lost their humanity in pursuit of perfection. I found this really compelling and giving the Rilmani a spark of much needed life and adventure hooks. It fits their sub-species names too, which are derived from the alchemical names of metals. The thread is over here:
http://www.enworld.org/forum/showthread.php?215538-How-would-you-re-envision-Guardinals-and-Rilmani-in-4e
.
.
Mechanus: Modrons
Check.
.
Limbo: Slaadi+
As I've always interpreted them, they're more like horrific Lovecraftian demons, and I'm not sure they qualify as exemplars of Chaos, besides being crazy solipsists. Back in the old PRP: Limbo thread, someone mentioned a chaotic race called Proteans which infiltrated the individual after lives that souls in Limbo created for themselves, appearing as "characters" within the soul's "story", attempting to siphon energy from them and manipulate the inividual's imagined afterlife. First of all, that conception is just vastly more interesting! Secondly, maybe that idea could be applied to Slaadi? That they have their natural frog forms and then whatever form they take inside the afterlife-scape... After all, green, grey, and death slaad all have some form of polymorph or shapechange ability...
.
Acheron: ?
I'm stumped.
.
Baator: Baatezu
Check.
.
Gehenna:

Rakshasa
These guys are LÈ outsiders, they just about embody exploitation, and they already have several sub-species. A perfect fit! I imagine them as governing illusion coated cities full of vices untold to attract mortals who they then feed off of at their leisure. The are in conflict with the invading yugoloths and territorial barghest lords.
.
Gray Waste: Yugoloths
Check.
.
Carceri: Gehreleths+
I think they're a good fit to Carceri as outcasts/failed experiments of the baernoloths who serve as jailers who themselves hunger for freedom. However, the race rarely appeared in any capacity beyond a "planar troll" capacity in Planescape, and it needs some work to make it more compelling and usable.
.
Abyss: Tanar'ri
Check.
.
Pandemonium:

Manians/Desmanians?
Though there is no major planar species for Pandemonium, looking thru the art of Planescape I see several images that seem to suggest some kind of fiend that was never realized in the monster books. This is one plane that may warrant the creation of a new race, perhaps called Manians or Desmanians? As an exhibit, I submit these pictures...
A. From the "Xaos" entry in PSCS Sigil and Beyond. Who are you?

B. Ever wonder who/what that Mercykiller was wearing over his face?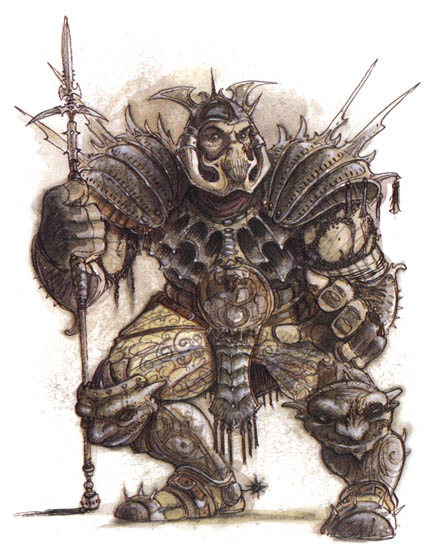 C. Check out the sketch in the bottom right panel...what kind of fiend is that?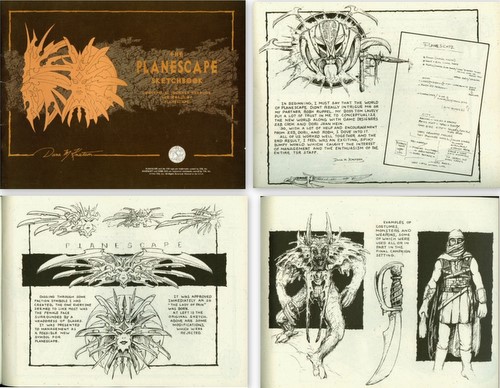 .
Arcadia: Formians
I think they're probably fine as is, though perhaps need a bit more thought about how to use them in adventures.
Mount Celestia: Archons
Great! The only change I would make is to rename the Hound Archon and give it a more human or angelic appearance rather than a dog-man.
Bytopia: "Janusean Angels"
This is the other plane that I think definitely warrants a new planar race. I'm detailing them over here: http://planewalker.com/content/planar-renovation-project-bytopia, but basically imagine two-faced multi-winged wise mediator-merchant-sages and you're on the right track. Not sure what they'd be called yet.
Elysium: Aasimon
I think either all non-deva Aasimon should be made natives of Elysium, and explicitly Neutral Good. This lets deva be the servants of all the Upper Planes and of varying alignment, and to more explicitly separate their mechanics from other Aasimon which I think has been the trend over the editions. The guardinals are just a poor fit thematically for Elysium. And Aasimon are like the ultimate symbol of Good, a fine counterpoint to the Yugoloths.
Beastlands: Guardinals (renamed)
Ok, now move the Guardinals over to the Beastlands, call them Warden Beasts or simply Animal Spirits, and now we're talking.
Arborea: Eladrin+
Check....I think. With one caveat: with the Plane of Faerie a thing in D&D now, Eladrin could use some differentiation from other fey-like creatures. Alternately you could go all Greek with them...
Ysgard: Valkyries
I know there's a lot of life in Ysgard - bariaur, giants, lillend, and other races, but none of them meet all the criteria I set out at the beginning. And there's been a gap in many depictions of Ysgard with a lack of the Valkyries (or they only were given a cursory treatment in Deities & Demigods). But how perfect are they conceptually? A plane all about celebrating personal glory and prowess in battle, home of the Norse gods. Then you have specters flying over battlefields on winged steeds, taking the spirits to their rightful reward, sleeping with them, championing them, going on adventures with them, deceiving them, lots of potential there. It would take a bit of doing to come up with a couple sub-species representing different power levels of Valkyrie. I like this idea, but I'm curious what you all think?